BOTSWANA – OKAVANGO DELTA, KALAHARI DESERT, CHOBE…
WITH AFRICA SCOUT!
Discover Botswana! In a 4×4 safari vehicle, a mokoro or by bush plane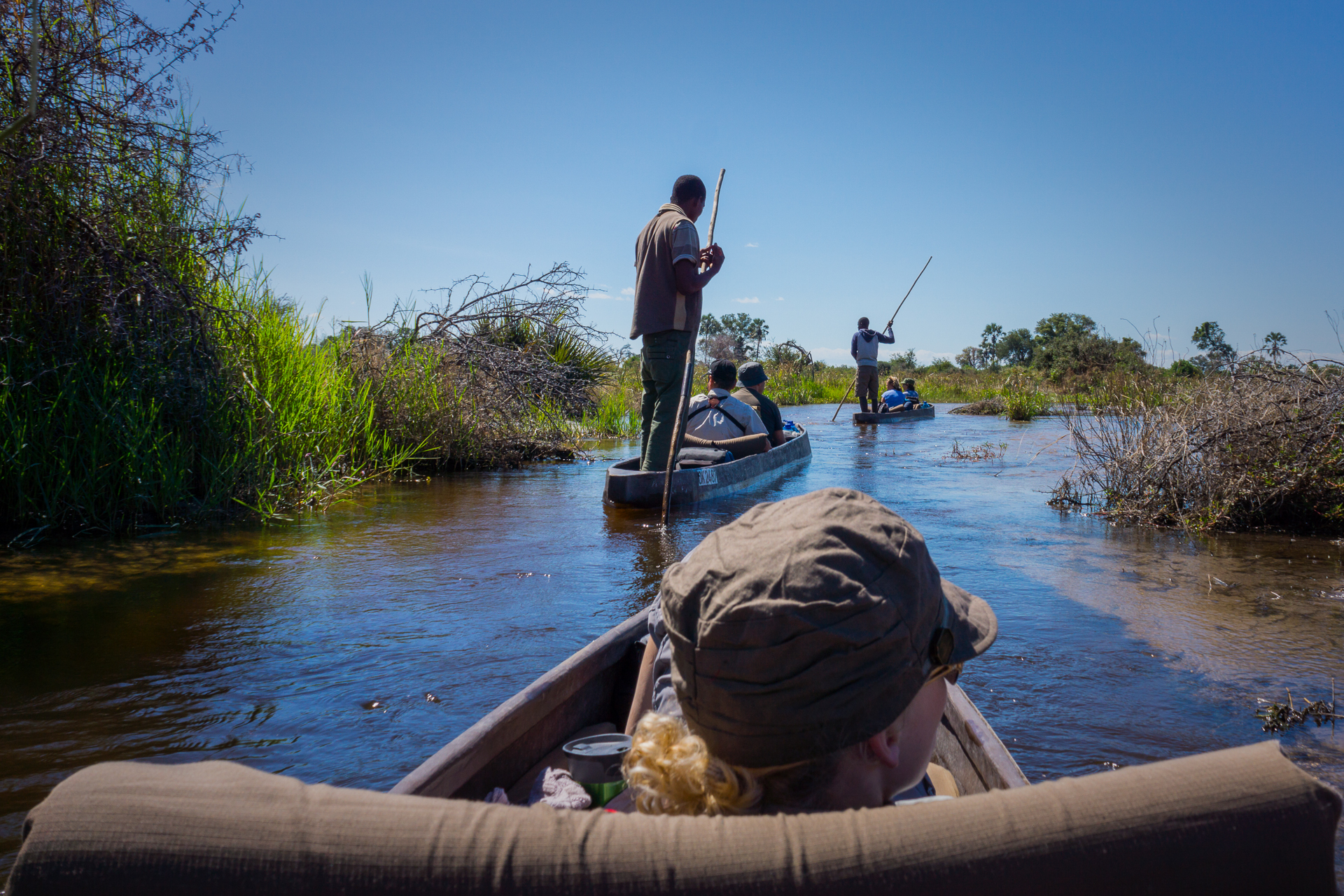 Botswana! A dream becomes reality
The mixture of Okavango Delta and Kalahari Desert, as well as the many different national parks make Botswana an absolute dream destination for Africa lovers all over the world.
Whether as a self-driver in a 4×4 rental car, within a tour group, as a private trip, camping trip, even on a motorcycle… Anything is possible in Botswana!
Browse through our ingenious group travel offers or simply call us to plan an extraordinary individual trip.
We look forward to you.
BOTSWANA BY LAND, WATER OR AIR!
WITH AFRICA SCOUT
One of the TOP safari destinations in Africa is calling you? Then you should follow:
ON THE ROAD TO THE HIGHLIGHTS IN BOTSWANA! WITH AFRICA SCOUT
Reisedauer:
Sprachen:
Tour-Nr:

We Africa scouts have already been there several times and can competently answer questions about your travel planning. Telephone: 0271 - 480 990
Why Botswana? Here are 12 reasons why Botswana will inspire you:
1. No time difference – no jet lag
Botswana can be easily reached from Germany with several airlines and one stopover. Self-drive also often start in Johannesburg or Windhoek for a country combination. No jet lag = more time traveling
2. Mass tourism? Not in Botswana
The country relies on quality instead of quantity to prevent mass tourism like in other countries. On the one hand, this means: lots of space, peace and quiet and exclusivity on the journey, but also higher prices than in neighboring countries.
3. Our Afrikascout customers love elephants! You also?
With over 130,000 elephants, Botswana is home to the largest elephant population in Africa. So if you love elephants, fly to Botswana.
4. The Okavango Delta
The Okavango Delta is the largest inland delta in the world. Coming from the highlands of Angola, the Okavango River meets the Kalahari Desert here. It is one of the largest and probably also the most extraordinary nature reserves on earth, because the mixture of water and desert has become home to countless animals and a flora and fauna that is second to none.
5. Traveling with sustainability in mind
More than 40% of Botswana's land area is protected. There are no fences either. The animals can move freely. You can sponsor many great projects for people, nature and animals on site. Important: When you book your trip with Afrikascout, you also automatically support excellent local projects in Africa.
6. A starry sky in a class of its own
We can guarantee you one thing! You have never seen a starry sky like in Botswana. Unless you have already been to Namibia. Experience billions of stars in the black night sky. Discover the Milky Way and the "Southern Cross". An unforgettable experience.
7. Cordiality and hospitality
On your journey through Botswana you will see one thing above all: waving and laughing people on the side of the road. You will be able to feel the joy of visitors from all over the world with every encounter with the local population with all cordiality.
8. Many national parks can be combined in just one trip
On your journey through Botswana you can visit many national parks. All are different and offer different focuses. The combination makes the difference!
9. Meerkats in Makgadikgadi National Park
You can admire the cute little (almost tame) meercats in Jack's Camp. Set amidst trees and palms in the Pans, it is an authentic, classic safari camp that reflects the ambiance of a typical 1940's East African safari. Since 2020 it has been completely renovated and shines in new splendor. However, the meerkats are the same and look forward to visitors.
10. Chobe National Park with Sunset Cruise
Animal lovers will get their money's worth in the Chobe National Park, because after a game drive through the park, you can change to a boat and watch the animals drinking from the water. Incidentally, there are hardly any other parks in Africa that have as many different bird species as here on the Chobe River.
11. Wonderful Kalahari
The Kalahari semi-desert is the largest continuous stretch of sand on earth. It is part of a huge sand basin – the Kalahari Basin, which stretches from the Orange River to Angola, west to Namibia and east to Zimbabwe. Here it says: The desert is alive! Countless large and small animals have their habitat here, as the rainfall is higher than in a "real" desert, such as the Namib.
12. "Click" "Click" – The language of the Khoi San
Be sure to visit the Khoi San in Botswana and practice speaking their language with them. A "must do" because fun.

WELL THOUGHT THOUGHTFUL AND SAFE TRAVEL WITH AFRICASCOUT
Do you love adventure, extraordinary animals and breathtaking landscapes?
Then join us on our wonderful journeys and discover the beauty of Africa.
You alone decide how you want to experience Africa… In small groups, individual with or
without a guide, as a self-driver by car or motorbike, with the family, as a single or as a couple…
We, as professionals with 25 years of Africa experience, plan your dreams!
Besides 100% passion
we offer you:
First class service
Competent travel designers
Best knowledge of the country
Tailor-made trips
Very large travel selection
environmental and animal welfare
Excellent prices
Small Group Tours
individual trips
sports travel
work trips
motorcycle trips
coaching trips
incentive trips
seminar trips


FOLLOW YOUR SCOUTS! Answer the call of the wild
ON FACEBOOK, INSTAGRAM & YOUTUBE
For brilliant travel tips, insider information and pictures that will put a smile on your face!